Temple History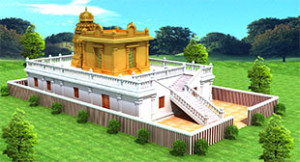 Dear Devotees SRI POLUR THAI MOOKAMBIKA TEMPLE being constructed at Papambadi village in Polur bye pass in Tiruvannamalai District. The circumstances to construct a temple of the god came to our founder trustees when they purchased a land at Papambadi Village, some incidents happened with snakes coming in front of them and in dreams of the founders.
Then we enquired about this to some Sivachariyars and other people all suggested to go for a sozhi deivam prasthanam by K.S Murugan Mathangi Upasagar in that deivam prasthanam it was revealed that the almighty goddess thai mookambika has come down in an lighting with an natural symbol of tirusulam formed in a stone with more question and answer in the Prasthanam it was learnt that a sithar in the form of Nagar (Nagar) with snakes and insects guarding the Goddess and therefore it was decided to build a temple for them Goddess.
As a first step we went to kollur in karnataka to bring theertham and sand from there we commenced our work to construct a small temple but the God had the other way she wanted big, and we appointed National Award Recipient S. Perumal Stapathi and his son P. Mallairajan of Mahabalipuram from the family of Thiru Ganapati Sthapati to construct the temple and the vigarams of Sri Thai Mookambika, Vinayagar, Murugan, Navagrahas and Nagar.
Many miracles have happened with the start of the work when the Boomi Pooja was to be performed on 23.11.2012 heavy Rains slashed before the scheduled time and stopped for the vastu pooja to be performed with Rain Resuming as soon as the pooja was over.